Global hedge fund benchmark survey
Published: 15 September 2020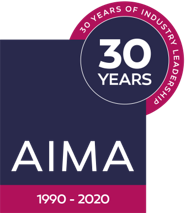 Dear respondent,
Driven by our collective commitment to supporting the hedge fund industry, AIMA is pleased to announce our global hedge fund benchmark survey. In collaboration with leading law firms Simmons & Simmons and Seward & Kissel, this survey will explore the latest insights from across the alternative investment industry.
The overall premise of the study is to look at the health of the hedge fund industry, including latest fee trends, fund launches, views on ESG as well as some of the internal and external challenges facing the industry. As part of the output we will be launching a Global Hedge Fund Confidence Index.
To support this initiative, we kindly ask that you spare 6 minutes to complete the online questionnaire (Link below). Upon completing the survey, respondents will be able to obtain an immediate benchmark of their answers, compared to other respondents. To do so, click done at the end of the survey for your tailored report.
To ensure we gain a holistic view of the industry we are also seeking views from investors and industry service providers. Depending on your identity, participants will be provided with a tailored questionnaire for their feedback.
All data from this survey will only be presented or shared in the aggregate. It will not be attributed, or attributable, to any specific firm or person. The survey will run until mid-October with a full and comprehensive report published in early Q1 2021.

If you have any questions regarding this research, please contact:
Tom Kehoe
Managing Director, Global Head of Research and Communications.