About
The 5th Annual AIMA Canada Investor Forum returns to Toronto October 17 - 18, 2019.

The 2018 Forum brought together over 300 attendees from Canada, USA and abroad, with one third representing the investor and allocator category. Keynotes included OTPP CEO Ron Mock, OMERS CEO Michael Latimer, and Galaxy Digital CEO & Founder Mike Novogratz, while 11 panels of leading experts covered current themes impacting hedge funds, private credit, private equity, real assets, managed futures and more, including due diligence, ESG, fintech and diversity trends. This year's agenda will continue to bring fresh perspectives to address the key challenges confronting the industry and the latest trends in innovation.

By popular demand, we will again feature one-on-one networking opportunities run concurrently with the conference. Participants will be provided with access to the match-making platform one month before the event to begin scheduling 20-minute sessions to discuss their companies and services.
Conference Information
Date:
October 17 - 18, 2019
Venue:
Delta Hotel (Toronto)
75 Lower Simcoe Street
Toronto, ON, M5J 3A6
Agenda
AIMA Canada Investor Forum 2019
DAY ONE | THURSDAY, OCTOBER 17

07.30 – 09.00
Registration & Breakfast Buffet


09.00
Main conference and concurrent match-making sessions

Opening Remarks
09.10
Keynote Interview
09.45
Panel 1: Hedge Funds
10.30
Coffee Break
11.10
Panel 2: The State of Alternative Credit
11.55
Panel 3: Digging Under the Hood of Private Credit
12.40
Lunch
14.00
VC/Tech/Futurist Keynote
14.30
Panel 4: Rise of the Machines: Blockchain, Alternative Data, Artificial Intelligence & the Future of Alpha
15.15
Coffee Break
15.55
Panel 5: Private Equity
16.40
Panel 6: CEO Roundtable - Designing the Alternative Asset Management Firm of the Future
17.25
Day one closing remarks
17.30 – 19.30
Welcome Drinks Reception
DAY TWO | FRIDAY, OCTOBER 18

08.00 – 09.00
Registration & Breakfast Buffet


09.00
Main conference and concurrent match-making sessions

Panel 1: Hot Topics in Hedge Funds
09.45
Panel 2: ESG & Investing for Impact
10.30
Coffee Break
11.10
Panel 3: Investor Roundtable - Asset Allocation Best Ideas
11.55
Keynote 3: Institutional Investor Keynote
12.30
Closing lunch
Pricing
2019 ACIF Pricing

Standard Member

Non-Member

End-Investor*

Free

Free

Investment Advisors/Consultant

$300 CAD

$500 CAD

Managers
(<$100MM)

$1,000 CAD

$2,500 CAD

Managers
($100-250MM)

$1,250 CAD

$3,000 CAD

Managers
($250-500MM)

$1,500 CAD

$4,000 CAD

Managers
(>$500MM)

$1,750 CAD

$5,000 CAD

Service Providers

$1,750 CAD

$5,000 CAD

Deadlines

Ends October 15, 2019

Ends October 15, 2019


* End-investors includes (at the sole discretion of AIMA Canada): pension funds, endowments, foundations, sovereign wealth funds, insurance company investment divisions, multi-family offices and single family offices.
Refund policy
Any cancellation must be made in writing. Where payment is made, any cancellation received 15-30 days prior to the event start date, 50% of the event fee is still payable. No refund is given for a cancellation made 14 days or less prior to the commencement of an event. Transferring from one event to another is treated as a cancellation. You can substitute one delegate for another at no additional cost. In this instance, please give two business days' notice.
2018 Recap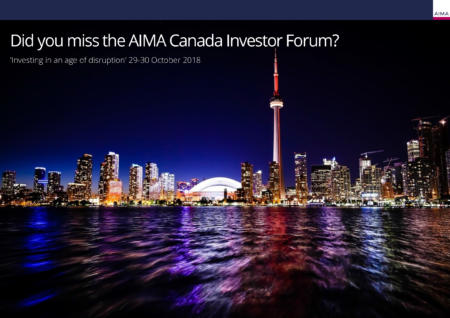 SELECT 2018 Attendees:
Allocators & Advisors

Alberta Investment Management Corp
Alberta Teachers' Retirement Fund
Albourne Partners
Alternative IQ
Amerin Capital Partners
BC Children's Hospital Foundation
Bell Kearns & Associates Ltd.
Blackrock Asset Management Canada Limited
Breakwater Investments Inc.
British Columbia Investment Management Corporation (BCI)
Cambridge Associates LLC
Canada Post Pension
Canavan Capital
Cornerstone Group
CPPIB
Dupont Capital
Efficient Capital Management
Ellement
Employees Retirement System of Texas
Enterprise Castle Hall Alternatives Inc.
Franklin Templeton
GCM Grosvenor
Highview Financial Group
Investment Management Company of Ontario
K2 Advisors Llc
La Caisse de dépôt et placement du Québec
Lark Investments

LGT Capital Partners Inc.
Lyxor Asset Management Inc.
Man FRM
Mercer Investment Consulting
Millar Private Wealth
Northland Wealth Management Inc
Northwood Family Office
Octonmics
Omers Administration Corporation
Ontario Power Generation
Ontario Teachers' Pension Plan
Optrust - Opseu Pension Plan Trust Fund
Owens MacFadyen Group
Peninsula House, LLC
Prelude Capital Management Llc
Protege Partners
PSP Investments
Richter
StepStone Group LP
Tacita Capital Inc.
TD Asset Management
Toronto Transit Commission
The World Bank
University of Toronto Asset Management Corporation (UTAM)
Vel Investment Holdings Ltd.
Westcourt Capital Corporation
Willington Investments Limited
Wychwood Capital Investments Ltd.
Investment Managers

400 Capital Management
Aberdeen Standard Investments
Algonquin Capital Corporation
Allianz Global Investors
Alphadyne Asset Management
Amplitude Capital Ag
Anavio Capital
AQR Capital Management LLC
Arcs of Fire Investments Inc.
Ardenton Capital Corporation
Argentem Creek Partners
Arrow Capital Management
Aspect Capital Limited
Auspice Capital Advisors Ltd.
Autonomy Americas LLC
Axonic Capital LLC
Barometer Capital Management Inc.
Capital Fund Management
Centurion Apartment Real Estate Investment Trust
CFM North America Inc.
Cheyne Capital Us LP
Claret Asset Management
CoinSquare
Crabel Capital Management
D E Shaw & Co
Deer Park Road
Delbrook Capital Advisors Inc
Disruption Ventures
Espresso Capital Ltd
Exelauno Capital Management
Fair Oaks Capital
Fiera Capital Corporation
Formula Growth Limited
Fort LP
Frontlight Capital
Galaxy Digital

Hanover Investors Management LLP
HGC Investment Management
Hiscox Re Insurance Linked Strategies Ltd
ICM Asset Management Inc.
Jemekk Capital Management Inc.
Lansdowne Partners Ltd
Lawrence Park Asset Management
Levine Management Services LTD
Lombard Odier Asset Management
Lysander Funds Limited
MGG Investment Group
MKP Capital Management, Llc
Mulvaney Capital Management Ltd
Ninepoint Partners
Ph&N Investment Management
Polar Asset Management Partners Inc.
Portfolio Management Corporation
RBC Global Asset Management
RP Investment Advisors
Resolve Asset Management
Row Asset Management, Llc
Satori Capital
Schroder Investment Management North America Inc
Shanghai Topfund Investment Management Co., Ltd
Silvercreek
Skyline Wealth Management Inc.
StratoBridge Asset Management
Third Eye Capital
Timbercreek Asset Management
Tudor Capital Europe LLP
Turtle Creek Asset Management, Inc.
Waratah Capital Advisors Ltd
West Face Capital
White Oak Equity
Winton Group
Service Providers & Others

Alternative IQ
Backstop Solutions
Bloomberg L.P.
BMO Nesbitt Burns Inc
Borden Ladner Gervais LLP
CAIA
Capitalize for Kids
CIBC Capital Markets
CIBC Private Wealth Management
CIBC Wood Gundy
Davies Ward Phillips & Vineberg
Dechert LLP
Eurex
EY - Canada
Global Funds Management Ltd.
GlobeTax
Harmonic Fund Services Canada Inc
Innocap Map
Introduction Capital

I-Impact
JP Morgan
KPMG LLP
McMillan LLP
PricewaterhouseCoopers
Prime Quadrant
Private Capital Markets Association of Canada (PCMA)
Preqin
Professional Risk Managers' International Association (PRMIA)
Richardson GMP Ltd.
Saxo Capital Markets UK Limited
Scotia Global Banking & Markets
SGGG Fund Services Inc.
Société Générale
SS&C Commonwealth
State Street
Thomson Reuters
Venue
Venue:
Delta Hotel (Toronto)
75 Lower Simcoe Street
Toronto, ON, M5J 3A6