Alternative Investments Conference - Gone to Texas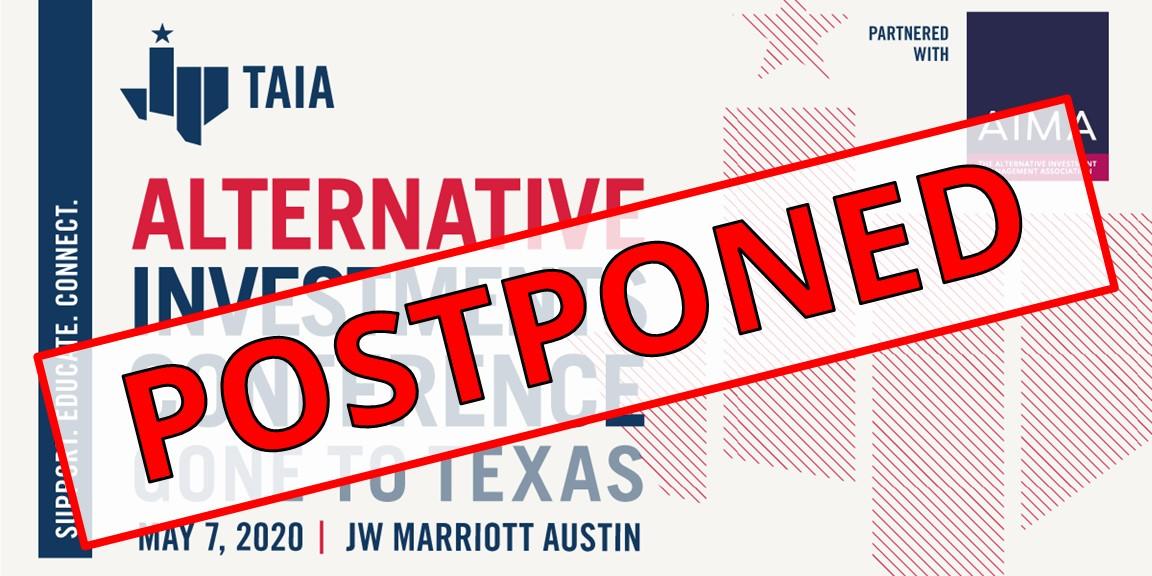 Click here for more information
UPDATE: GONE TO TEXAS

We hope that this finds you, your families, teams and communities in good health.
Following our earlier event update, we have confirmed a new date of Tuesday, July 28, 2020 for Gone to Texas: the Austin Alternative Investment Conference. Our goal remains to deliver a high quality event, in a safe environment, and to support and celebrate thought leadership in our local industry. We will continue to take guidance from the relevant government and health authorities to ensure the safety of all participants and community at large. However, this period of social distancing underscores the value of in-person engagement, and we hope to be able to take advantage of this new date to convene our members and colleagues.
For those of you already registered, your booking will be rolled over automatically to the new date. If the new date conflicts with your calendar, please contact me. We understand if you are not able to fully commit at this time; however, please save this date in your schedule.
We value your continued patience and understanding as we work to navigate this evolving situation. We will continue to send updates as necessary and share them on the conference website.
Our thoughts are with you during this global crisis. Please let us know how we can best support you and your organization during this time. We are in this together!
---
After careful consideration, TAIA and AIMA have made the difficult decision to postpone Gone to Texas, the Austin Alternative Investments Conference on May 7th, 2020. Our first and foremost priority is for our members' and delegates' health and well-being. This includes their families, friends, households, and colleagues. In light of current and rapidly changing developments surrounding the spread of COVID-19, we believe that rescheduling the event is the only way we can ensure everyone's safety, deliver the quality conference you love and support the local industry.
We are working to secure a new date for the summer and expect to share that with you next week – but in the spirit of transparency, wanted to get in touch as soon as this decision about postponement had been made.

---
We are excited to announce AIMA's partnership with the Texas Alternative Investment Association (TAIA) for a new flagship investor event. On May 7, 2020, TAIA and AIMA present the Alternative Investments Conference: Gone to Texas at the JW Marriott in Austin, TX.
This is the 6th annual event and in 2019, when hosted by TAIA, it brought together 200 attendees from across the US and abroad for the conference and networking BBQ. The agenda for 2020 will bring fresh global perspectives to address key challenges confronting investors in alternatives and for the first time, we will introduce a meeting room for 1-on-1 discussions and an app to facilitate scheduling.
Early bird pricing is now available.
For further information please contact [email protected]