AIMA Canada Release: An Advisor's Essential Guide to Alternative Funds in Canada
Published: 02 December 2020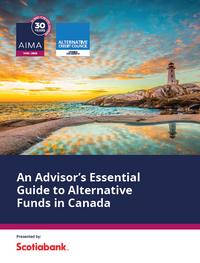 AIMA Advisors Essential Guide to Alternative Funds in Canada 2020.pdf 4
AIMA is thrilled to release this new publication, An Advisor's Essential Guide to Alternative Funds in Canada (AIMA Advisor Guide) showcasing key resources for wealth advisors and investors to learn about alternative investment funds and how to best evaluate them for portfolio investment.
Sponsored by Scotiabank Global Banking and Markets, the AIMA Advisor Guide features due diligence question highlights, 5-minute educational videos, an investor infographic, downside protection charts, continuing education advisor presentations and more.
The AIMA Advisor Guide also features key regulatory differences between fund structures and and questions advisors can ask of their head office when considering allocations to hedge funds, private credit funds, alternative mutual funds and alternative ETFs.
This AIMA Advisor Guide has been published to support the continued education and growth of the alternative investment industry in Canada, especially as more advisors and investors consider allocations to these funds for diversification, risk reduction and non-correlated return benefits.
For more information on AIMA's advisor resources, please contact:
Claire Van Wyk-Allan, CAIA
Director, Head of Canada, AIMA
VP Legal & CCO, Third Eye Capital Chair, &
Chair, AIMA Canada Board of Directors & Executive Committee 2018-2022
Managing Director, Head of Canadian Prime Services, Scotiabank Global Banking and Markets
AIMA Canada Executive Committee Member 2018-2022