Foreword
The environment and implications from COVID-19 demonstrated that – in times of market volatility and business uncertainty – alternative investments fulfil an important role in an investor's portfolio. Throughout the pandemic, the Hedge Fund industry has proven its ability to manage risk and volatility while still producing above-market returns for investors.
Moreover, the sector proved itself to be highly adaptable and resilient in the face of massive market disruption. Operations not only continued in an unprecedented decentralized setting but worked almost seamlessly with little or no interruption. Trades were executed during periods of record volume, margin was extended, collateral was posted, and trades were settled. Subscriptions and redemptions largely took place as normal, Net Asset Values were issued, and risk information was exchanged.
Indeed, the COVID-19 experience has proven that managers' operations and their ecosystem's capabilities are robust, that some processes can be managed virtually, and that – even during the lockdowns – the industry remains agile and resilient.
The data and KPMG firm's and AIMA's conversations with industry players suggest the environment is creating new opportunities for the industry. Many see the current market disruption and dislocation as an opportunity to attract new talent to their firms. They see opportunities to reevaluate their existing business operating models and adjust their core processes, cost structures and work environments. They are channeling increased investment into their Investor Relations (IR) functions to enhance their capabilities. And they are finding ways to propagate their culture and encourage collaboration in a decentralized environment.
At the same time, the data points to an accelerating bifurcation in the industry. Generally speaking, the survey suggests that larger, more established players are better postured to attract increasing amounts of talent and capital. Smaller, less established players, on the other hand, may be seeing competitive advantages flow from less complicated operating models and greater flexibility.
In the summary that follows, we share the high-level results from the eight key themes that have been underscored by the Alternative Investment management industry as a result of COVID-19. From talent acquisition and retention through to technology investment and cost management, this report provides key insights into how the industry is navigating opportunities in a decentralized environment.
Significant uncertainty may remain, but our conversations with fund managers and our data suggest that the industry remains agile and resilient and is taking prudent steps in order to embrace the new reality.
To understand more about the research – or to discuss your unique challenges and opportunities – we encourage you to contact either AIMA or your local KPMG member firm.
Tom Kehoe

Managing Director, Global Head of Research and Communications, AIMA

Steven Menna

Partner, National Hedge Fund Segment Leader, KPMG in the US
About the research
This survey is part of an ongoing series of research initiatives conducted by KPMG and AIMA since 2012. This year we elected to focus on the threshold issues facing the Alternative Investment management industry as a result of COVID-19. This survey was 'in field' through July 2020, allowing AIMA and KPMG professionals to gather real-time data throughout the pandemic.
For this survey, 144 managers were interviewed accounting for an estimated US$840 billion in Assets Under Management (AUM) and representing more than a quarter of the industry's total AUM.
Responses were divided by order of size. Larger managers (where the firm's assets under management (AUM) exceeded US$1 billion) accounted for 59 percent of all responses, while smaller managers (where AUM was up to US$1 billion) accounted for the remainder; 41 percent. From a geographic perspective, nearly half (46 percent) of all respondents were from North America; 37 percent from EMEA; and 17 percent were headquartered in Asia Pacific.
In addition, KPMG and AIMA professionals canvassed the views of the industry via one-to-one interviews with Hedge Funds, investors, and key ecosystem players, including technology companies, prime brokers, fund administrators and law firms to provide additional context to the survey findings. Excerpts from those discussions are included in this report.
Key takeaways from our research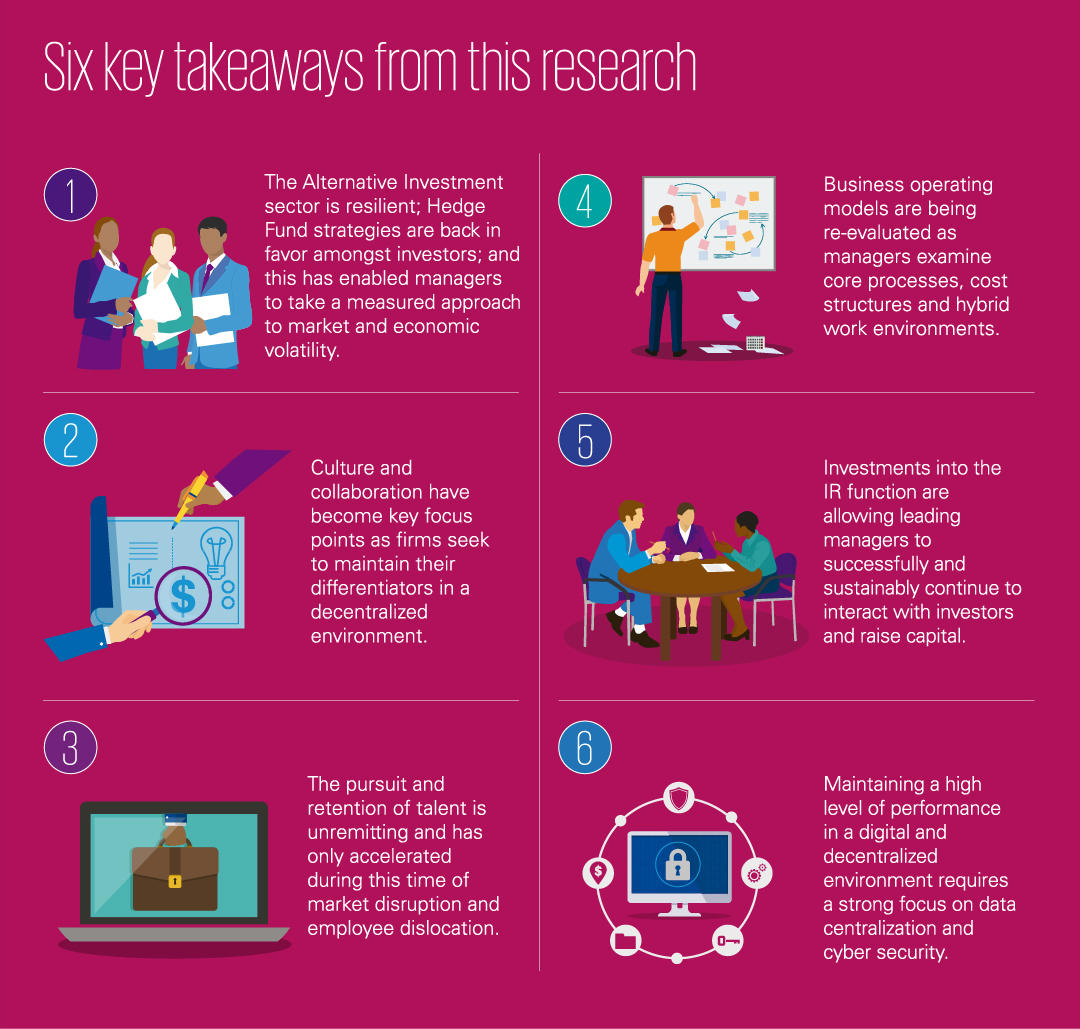 Thanks to our participants
On behalf of KPMG and AIMA, we would like to thank everyone that participated in the survey and shared their insights. The views you shared have been vital in helping form this unique and valuable report.
Short takes: How are alternative investment firms operating during the COVID-19 disruption?
AIMA's Global Head of Research and Communications Tom Kehoe and MD of KPMG's alternative investment practice in the US John Budzyna discuss the findings of AIMA's latest research. Click
here
to view all of the videos.
Download report
Agile and Resilient is available to members and non-members of AIMA. For more information about the report, please contact AIMA's Global Head of Research and Communications, Tom Kehoe ([email protected])