Key findings
Over a third of allocators plan to increase their hedge fund allocation in the second half of 2021, a strong showing, but lower than six months ago when 45% expected to invest further.
Based on surveys and interviews conducted with 108 investors in alternatives and 128 senior hedge fund IR and marketing professionals during Q2 2021, Investor Intentions H2 2021 provides hedge fund managers and investors with critical intelligence on the plans and sentiment of their peers in the second half of the year.
More than 80% of investors surveyed by HFM and AIMA said they were satisfied with hedge fund performance in the first half of the year, and hedge funds have achieved the best first-half performance since 2009. Countrintuitively, however, the asset class was the bigger faller among alternatives with regard to performance satisfaction over the period, dropping nine points from 91% in H1. Why?
With hedge funds having outperformed during Q2 2020's COVID-induced market mayhem, the bar has now been raised for what constitutes success in the eyes of investors. At the same time, a return to steady rises in equity markets during H1 has meant few chances for managers to demonstrate their ability to offer downside protection.
Still, H2 offers opportunities aplenty. After experiencing outflows in 2020, global macro and multy-strategy hedge funds are expected to be among the beneficiaries as investors rebalance in the face of rising inflation.
Interest in bespoke products, notably separately managed accounts, is also strong and tallies with the exciting new opportunities two fifths of investors expect to find among hedge funds during H2.
Managers, having for most of the pandemic relied upon existing clients and consultant relationships for leads, are turning to new sources of prospective clients, in particular PB cap intro teams. IRs hoping to tap this particluar resource during H2 would do well to act now before peers snap up precious allocator meeting slots.
And meetings will not be easy to come by, with investors expecting to meet fewer new managers than during H1. Instead, they are likely to spend H2 poring over the numbers of those they met in H1.
Ultimately, as we start H2 2021 hedge fund managers are half-way through establishing a solid three-year track record to present to investors. One which could form the basis of a hedge fund renaissance in the post-COVID era. Now is the time for IRs to prepare.
Tom Kehoe

Managing Director, Global Head of Research and Communications

James Sivyer

Head of Investor Research, HFM
About the research
The research, conducted in Q2 2021, surveyed 108 investors (with US$7.6 trillion in total investor assets) and senior IR and marketing professionals from 128 hedge fund managers to discover the changes allocators plan to their portfolios and how hedge fund managers plan to raise assets in H2 2021.
In addition, HFM Pageant Media and AIMA canvassed the views of the industry via one-to-one interviews with hedge funds and investors. Reference to these discussions are included in this report.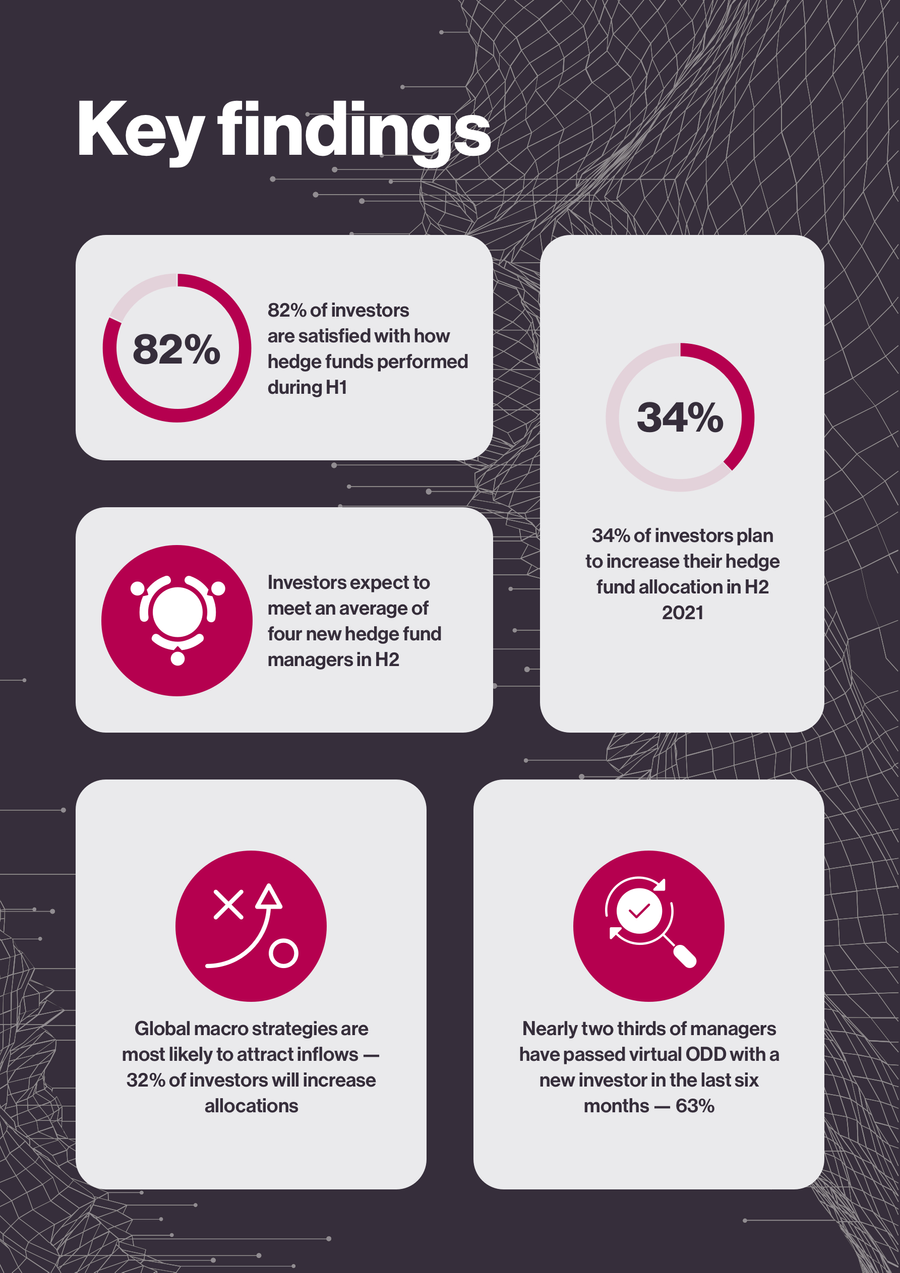 Download report
Investor Intentions H2 2021
is available to members and non-members of AIMA. For more information about the report, please contact AIMA's Global Head of Research and Communications, Tom Kehoe (
[email protected]
)