US/Canada Investment Summit (AAAIM & AIMA)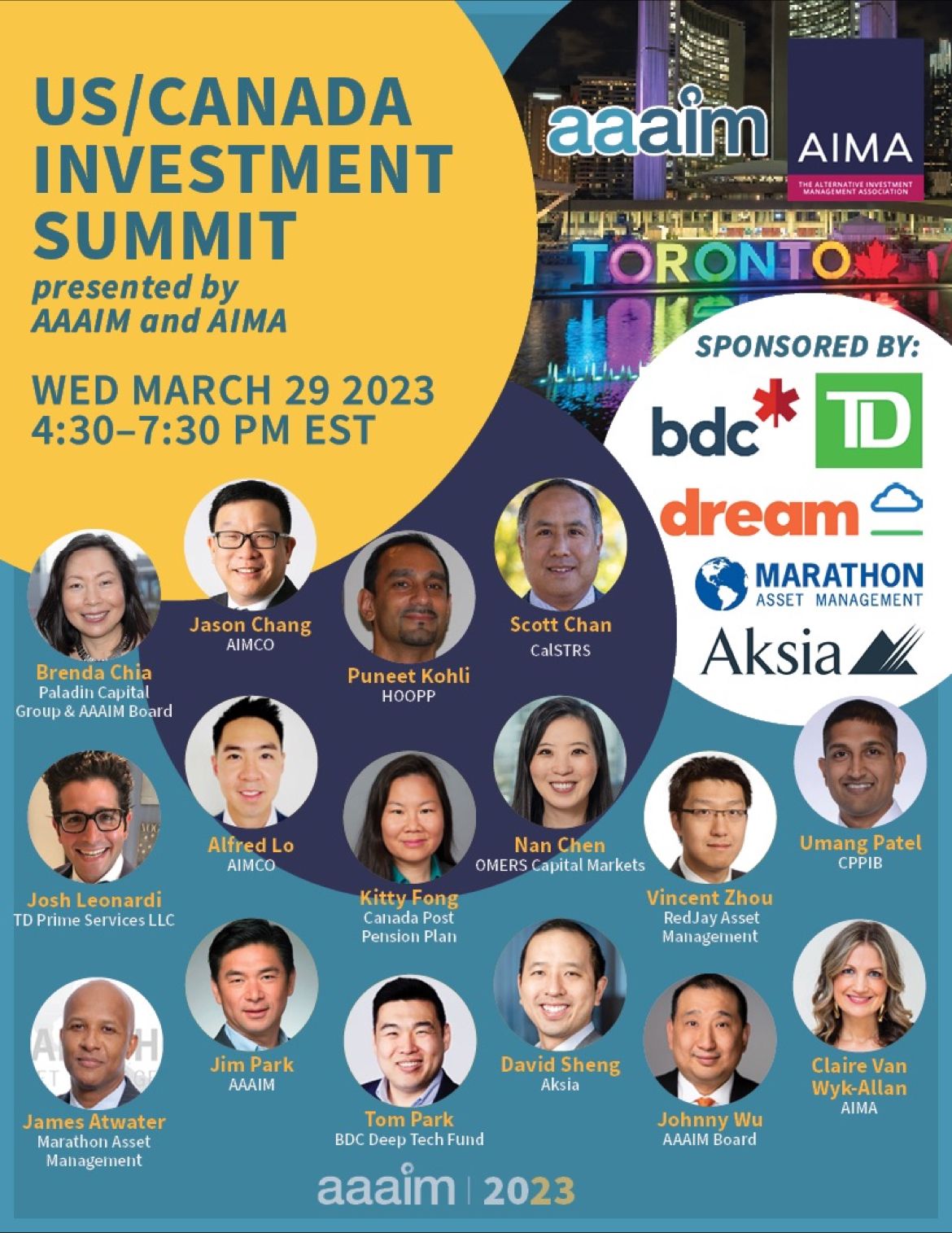 Location: Broadview Hotel – 106 Broadview Ave, Toronto, ON M4M 2G1, Canada
Join AAAIM and AIMA for our first-ever US/Canada Investment Summit featuring institutional investor perspectives from both sides of the border.
Agenda:
4:30 - 4:45pm | People Gather
Opening remarks - Jim Park, CEO, AAAIM | Claire Van Wyk-Allan, Managing Director, Head of Canada, AIMA
4:45 - 5:30pm | Leading Canadian/US Pension Investment Manager Perspective on Achieving Career Success
Introduced by Josh Leonardi, Managing Director, TD Prime Services LLC
Jason Chang, SMD, Fixed Income, AIMCO
Puneet Kohli, AVP, FI/Derivatives/External Managers, HOOPP
Scott Chan, Deputy CIO, CalSTRS
Umang Patel, MD, Global Leadership Team, CPPIB
Moderator: Johnny Wu, CEO, Quartzy Capital Advisors
5:30 - 6:15pm | Alternatives Approaches in the Current Market
Introduced by James Atwater, Managing Director, Marathon Asset Management
Alfred Lo, PM, Private Equity, AIMCO
Kitty Fong, GM, Private Equity, Canada Post Pension Plan
Nan Chen, Director/PM, OMERS Capital Markets
Vincent Zhou, PM, External Managers, RedJay Asset Management
Moderator: David Sheng, MD, Aksia
6:15 – 6:20pm | Closing Remarks
Brenda Chia, Chief of Capital Development, Paladin Capital Group & AAAIM Board Co-Chair | Tom Park, BDC Deep Tech Fund
6:30 - 7:30pm | Food/Beverages/Networking
Thank you to our sponsors: Aksia; BDC Deep Tech Fund; Dream Unlimited; Marathon Asset Management; and TD Prime Services LLC.
Thank you to our partner, AAAIM.