AIMA & CAIA Japan Joint Seminar & Networking : How will the investment structurally change in the new paradigm?
第二回「新しい世界での投資に想いを巡らせてみる」
オルタナティブ投資の普及に努めているCAIAとAIMAでは、2022年7月に開催した「新しい世界での投資に想いを巡らせてみる」の続編としまして、合同セミナーを開催いたします。前回と同様に株、債券、ベンチャー投資、アセットアロケーションの専門家に加えて、ゴールドといった実物資産の専門家にも参加いただいて、今後の資産運用業界における変化の方向性についてパネルディスカッションを行います。前回はコロナ・ウクライナといったこれまでにはなかったリスクの影響を俯瞰的に議論いたしました。今回はそこからより踏み込んで、為替、インフレ、金利等を起点とする構造的な変化と資産運用への影響に注目して議論を深めてまいります。この機会を皆様の投資の参考にご利用いただき、AIMAとCAIAと一緒に投資フロンティアを広げていきましょう。
AIMA and CAIA invite you to join our seminar on 14 February 2023.
CAIA and AIMA are co-hosting a webinar as part of our effort to further extend the presence of alternative investments. This time, we are hosting a panel discussion sequel to the one we hosted in July 2022 titled "How will the investment structurally change in the new paradigm?". For this panel, we invited professionals from each asset class such as equity, fixed income, venture capital and an asset allocation as we did in the previous occasion, but this time, we also invited a professional in Gold investment. This time, we continue to focus on impact from changing world on the investment and deep dive into some specific items such as currency, inflation and interest rate. It would be our great pleasure if the panel will provide insights that can contribute to your day-to-day investment activities. Let's extend investment frontier with CAIA and AIMA. We are planning to organize more events going forward.
This webinar will be held in JAPANESE ONLY.
Speakers:
Yoshinobu Yarita, Founder & President, Japan Alternative Investment Research Institute
Yuichi Alex Takayama, Country Head of Japan, Frontier Advisors
Hiroshi Yokotani, Managing Director, Head of Fixed Income Japan, State Street Global Advisors Japan
Taka Demichi, Managing Executive Officer, Head of Investment for Next-generation Growth division, SPARX Asset Management Co., Ltd.
Fumihiko Otsuka, Director, Japan Asset Management Platform Group Co., Ltd.
Masafumi Oshiden, Director, Equities, FIL Investments Japan Limited

Takahiro Morita, Advisor, World Gold Council
If you have any questions, please contact Kana Someya.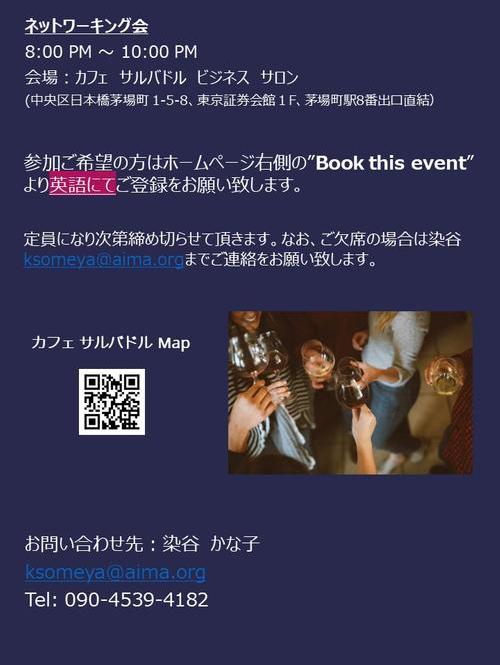 Co-host