Singapore Forum 2019: Wrap Up
Published: 18 November 2019
| | |
| --- | --- |
| The 5th AIMA Singapore Forum celebrates AIMA's 15th Anniversary in Singapore and 20th Anniversary in APAC | Gary Ng (left), Dymon Asia Capital, winner of the AIMA / CAIA Scholarshop Award and Peter Douglas (right), Director, CAIA Foundation, AIMA Singapore's Executive Committee Chairman (2004 - 2009) |
The fifth AIMA Singapore Annual Forum welcomed 390 attendees this year, a 20% increase from previous attendance. Our 2019 event was particularly momentous, as it marked AIMA's 15th Anniversary in Singapore and 20th Anniversary in APAC.
The 2019 agenda covered the whole gamut of the alternatives industry from hedge funds to private credit. A key thread that ran through the different sessions was the notion of change and disruption, and the day's panels took audiences on engaging discussions that cut across the regulatory, tax, operations, human capital and of course - asset allocation perspectives.
Highlights from AIMA Singapore Forum 2019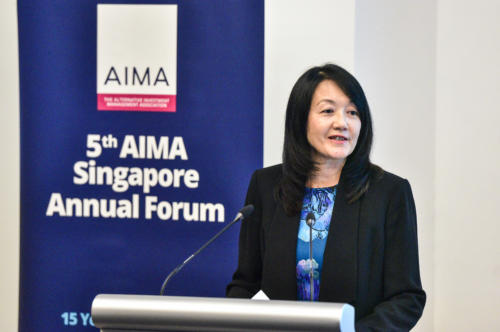 To kick things off, Jacqueline Loh, Deputy Managing Director, Markets and Development, Monetary Authority of Singapore (MAS), shared a short history of the evolution of the alternatives management industry. She presented an encouraging outlook of the future, and highlighted how Singapore is well-placed to ride a wave of change: with initiatives such as the Singapore Variable Capital Company (VCC) regime and US$5 billion private markets programme, Jacqueline shared that the MAS is working to grow the total pool of alternative managers in Singapore. When talking about ESG, she was confident that the "financial sector can be a driving force for good", and it will be valued partners such as AIMA who will play an increasing important role vis-à-vis consultation and policy development or connecting local regulators to a wider global network.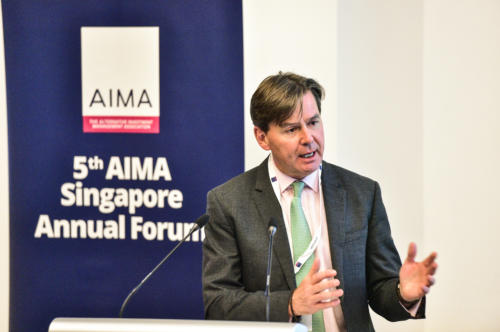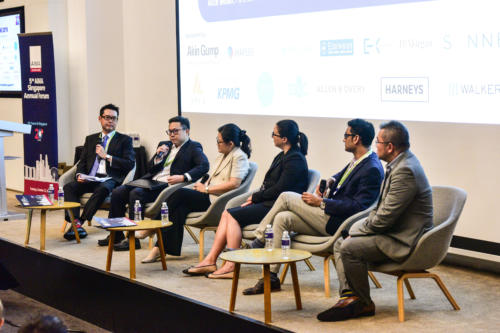 Industry updates include new corporate fund structures in Singapore and Hong Kong, tax incentive schemes for funds and managers in Singapore, changes in tax exemption schemes, and the soon-to-be implemented Individual Accountability and Conduct regime in Singapore. The VCC scheme was discussed, and it was noted that managers will soon have the ability to calibrate their fundraising structures according to their needs and audiences. The panellists ended with a discussion on the Guidelines on Individual Accountability and Conduct (IAC), noting that despite the delay in its implementation, preparations by investment managers are well underway.
Building on the theme of change, the second panel of the day looked at how this will manifest in terms of operations. The panel started with a focus on recent changes in today's operating environment and what that means for operators of hedge funds and service providers. Moderator Marc Parrott asked the panel about the implications of the increasingly complex and blurred lines between open- and close-ended funds. The group then exchanged ideas on how fund managers should manage side letters and how technology and automation has impacted processes - especially where it concerns due diligence and reporting, information exchange, IT security, data protection and research. The panel closed after a discussion on ESG and the state of play in the industry today; key takeaway being that a harmonized definition of ESG is sorely lacking, and investors are polling multiple managers in an attempt to obtain a baseline. This was a good segway into another hot topic of the season: diversity and inclusion (D&I).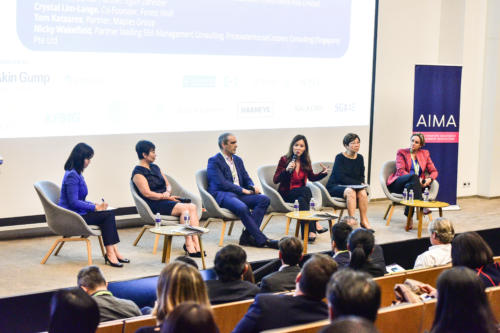 At the start of the discussion, the panel established that it is important to first distinguish diversity from inclusion: the former extends beyond just gender, ethnicity and age, and the latter is a lubricant for effective diversity. Much was shared on how D&I initiatives can unlock human potential, and there was consensus among the panellists on the need for D&I efforts to move beyond advocacy and into the implementation of action-driven policies. Some practical advice include having honest dialogues with stakeholders, or championing a culture where management recognizes the need to create a space that allows for some imperfection. Leaders need to be more cognizant of their own unconscious biases and blindspots, so that they can effectively foster more inclusive cultures.
The panel highlighted industry best practices and detailed the different challenges that they have encountered in their D&I journeys. Some ideas on wellness strategies was also discussed, and in the spirit of inclusiveness audience questions were also added to the mix; attendees were largely curious about implementation and the art of balancing gender representations within a firm while still meeting business objectives.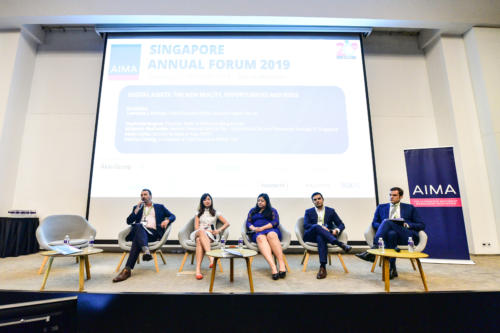 Midway, the conference shifted gears and took a forward-looking turn, and dived into opportunities presented by changes.
The panel [pictured above] discussed the new reality, opportunities and risks presented by digital assets. When the industry first encountered digital assets, there was a lot of unregulated activities surrounding transactions, and this represented a learning curve for authorities "the world over". There is a difference between cryptocurrency and digital assets, and panelist Stephanie Magnus highlighted Singapore as a case study where local regulators are wholly invested in the evolution of the space.
Today, there are "some rules" though the industry is still largely in review. Given "private is the new public", as Katrina Cokeng noted, digitalization will increasingly affect the state of play, and there will be more interest in how we can create mobility in secondary markets and offer customization as an attractive option for investors. And despite the promise of this new world, there are risks beyond cybersecurity concerns that exist; the panel ended with great advice – to take the time to fully understand what you're really getting when you're looking into digital assets.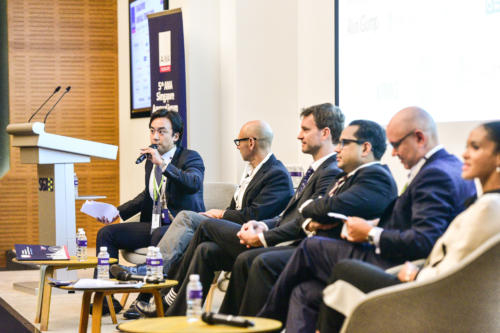 We tackled private credit in Asia next, a segment that is promising but lacks market data. Panelists explored pockets of opportunities present in Asia, and noted that the distressed sector was a bright spark. Private credit remains opportunistic in three key markets, namely India, China and Singapore – and this is because asset allocators in US want diversification and are looking to Asia. The complexity present in accessing markets in Asia means there is no one-size-fits-all market entry strategy, and the panel exchanged ideas on navigating the fragmented markets in the region. The biggest challenge in private credit in Asia, it was noted, lies in the operations aspect - where specific structuring is needed from legal, tax, regulatory perspectives for each country. ESG concerns also remained at the top of this panel's agenda.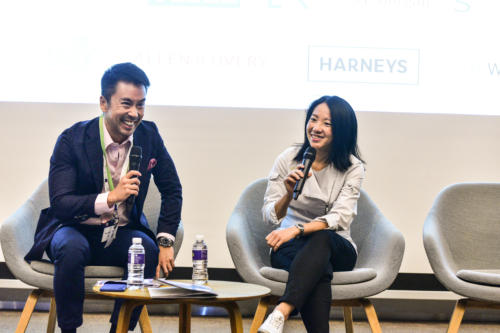 The conference took a sweet break before the final panel of the day, with a fireside chat with AIMA's Kher Sheng Lee and chocolatier, Janice Wong, who shared that her continued success has to do with "never [following] the trends of Singapore" – because that does not constitute business sustainability, especially in an environment that is extremely competitive and investment-intensive. She told our audience that her goal was to focus on flavour and taste (much as we focus on our product offerings), and to engage with and be relevant to people. She also suggested that a "way to grow is to collaborate".
And in this ever-changing technology-enabled world that has also influenced the alternatives industry, this was a timely reminder for us to constantly challenge ourselves and seek unique solutions for new challenges.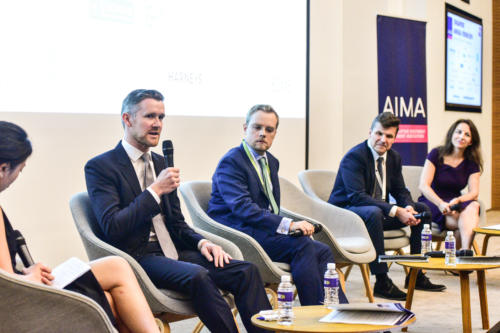 The last panel of the day summed up what the aforementioned changes would mean for allocators going forward. In view of the late-cycle economy, the panel talked about interest levels in alternative investments; a panellist commented that alternatives should play a bigger role, and suggested that performance and investor education will be key to bridging an information gap. The panel also discussed the rebalancing of asset allocations and the shift from pan-Asian to country-specific exposures, and wrapped up the day with the topic of fee compressions.
| | |
| --- | --- |
| | |
| | |
Conclusion
In the spirit of celebration, the day rounded off with drinks and delicious canapes and desserts catered by local celebrity chefs Justin Quek and Janice Wong.