AIMA Canada Investor Forum 2017


Please join us for our 2017 forum with a double theme of Canada's 150th anniversary and the 375th anniversary of the founding of the City of Montréal (then called Ville Marie).

Our 2017 conference will build on the success of previous years with each edition bringing together equal portions of investors, managers, and service providers.The 2017 Forum will also provide several match-making sessions throughout the day where managers, investors, and service providers will have the opportunity to pre-schedule 20-minute meetings to discuss their companies/services via an online platform and mobile app.
- For more information and to register for ACIF 2018, please click here -
---
View Past Attendees: Here
---

SELECT 2017 ATTENDEES:
Investors & Allocators

Aberdeen Asset Management
Abu Dhabi Investment Authority (ADIA)
Abu Dhabi Investment Council (ADIC)
Aflac Global Investments
Air Canada Pension Plan
Alberta Teachers' Retirement Fund
Bimcor
Bureau de la retraite CPEGQ
Caisse de dépôt et placement du Québec
Canada Overseas Investment Limited
Canada Pension Plan Investment Board
CN Investments
Colonial House Capital (SFO)
Concordia University
Cornerstone Group (SFO)
Fiera Capital Corporation (Seeding)
Efficient Capital Management
First Swedish National Pension Fund (AP 1)
Government Pension Fund of Thailand
Helmsley Charitable Trust
Hydro Québec
Investment Management Company of Ontario (IMCO)
Kruger Pension Fund
LGT Capital Partners
Morgan Stanley Investment Management

MSTAR Capital Corp.
National Bank of Abu Dhabi
Oceanpath Inc.
OMERS Capital Markets
Ontario Teachers' Pension Plan (OTPP)
OPTrust
Palomino (SFO)
Pandion Investments Inc.
PSP Investments
RBC Wealth Management
Richardson GMP Ltd. (IAs)
Rothschild Asset Management Inc.
RPMI Railpen (UK)

STM - Société de transport de Montréal
State of Wisconsin Investment Board (SWIB)
Sunsuper (Australia)
TD Wealth
University of Alberta Endowment
Ville de Montréal
Wells Fargo Investment Institute
White Oak Equity
Whittington Investments Ltd.
Workplace Safety Investment Board
York University Pension Plan
Canadian & Global Managers

Aberdeen Asset Management Inc.
Acorn Global Investments
Algonquin Capital
Alignvest Investment Management
Alitis Investment Council
Allianz Global Investors
Amplitude Capital ACIL
Ardenton Capital
Arrowgrass Capital Partners
AQR Capital Management
Aspect Capital
Auspice Capital
Axonic Capital
Balyasny Asset Management
Bellatrix Asset Management
BlackRock
Black Swan Dexteritas
Breton Hill Capital
Castle Ridge Asset Management
Centurion Asset Management
Claret Asset Management
Crabel Capital Management
Crystalline Management
Delbrook Capital
Emso Asset Management US LLC
Equiton Partners Inc.
Equity Risk Control Group
Ewing Morris & Co.
Fiera Capital Corporation
First Block Capital
Formula Growth
Frontlight Capital LP
Fulcra Asset Management
GCI Asset Management
Grosvenor Capital Management
Group RMC
Harmonic Capital
Horizons ETFs
IBV Capital
Informed Portfolio Management

Intermediate Capital Group Inc.
Invico Capital
Kassirer Asset Management
KeyQuant
LGT Capital Partners
LionGuard
Lombard Odier
Manulife Asset Management
Next Edge Capital
Ninepoint Partners
Northstar Capital Management Inc.
PACE Capital Management
Polar Asset Management Partners
Quantius
Razorbill Advisors
RBC GAM
Row Asset Management
RP Investment Advisors
SCT Capital Management
Shenyi Investment Co. Ltd.
Shanghai Topfund Investment Management Co. Ltd.
Sixty Capital
Skyline Global
Sloane Robinson
StepStone Group
Tactex Asset Management
Titan Advisors
Tolomeo Capital
Transtrend BV
Triasima Portfolio Management Inc.
Tudor Capital Europe LLP
Two Sigma Investments LP
Tyche Capital Advisors
Vantage Asset Management
Welton Investments
West Face Capital
Westrock Asset Management
Winton Capital US LLC
Service Providers & Others

AIMA Ltd.
Albourne Partners
Apex Fund Services
Appleby Global
Axiom SL
Battea Class Action Services
Bloomberg
BMO Prime Services
Bodhi Research Group
Borden Ladner Gervais
CAIA Association
CIBC Capital Markets
CIBC Mellon
CITCO
CME Group
CommonWealth Fund Services
Davies Ward Phillips & Vineberg LLP
eSentire Inc.
Federal Reserve Bank of Chicago
Fundata
GlobeTax

Government of Canada
Harmonic Fund Services
Harvard Business School
JP Morgan
KPMG LLP
Maples FS
McMillan LLP
National Bank Correspondent Network
Oak Hill Financial
Ogier
Pavilion Alternatives Group
Phocion Investment Services
Princeton University
Preqin
Scotiabank Global Banking & Markets
SGGG Fund Services
Sigma Analysis & Management Inc.
Société Générale
State Street
TD Securities
TMX Group
Towers Fiduciary Pte. Ltd.
---
Many Thanks to our Sponsors:
Lieutenant-Governor:

Voyageur:



Trapper:

Charity Partners:
---
Special Keynote Speaker:
---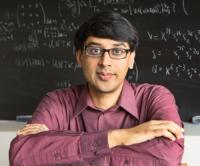 Manjul Bhargava
Princeton University, 2014 Fields Medallist
Manjul Bhargava received the Fields Medal in 2014 for pioneering new methods in the field of number theory. Bhargava is the first Canadian to receive the Fields Medal, considered the highest honor in mathematics.

Bhargava was born in Hamilton, Ontario, Canada, and grew up primarily in Long Island, New York. Bhargava studied at Harvard University, where he received his A.B. in 1996. In the same year, he received the Morgan Prize of the American Mathematical Society for his undergraduate research. He started his Ph.D. studies at Princeton, where he was advised by number theorist Andrew Wiles, famous for his 1995 proof of Fermat's Last Theorem. In his groundbreaking 2001 Ph.D. thesis, Bhargava reformulated and generalized Gauss's law of composition on binary quadratic forms, with surprising results. Bhargava worked afterwards as a visiting scholar at the Institute for Advanced Study in Princeton and at Harvard University, for one year each, before joining the mathematics department at Princeton University as the R. Brandon Fradd Professor of Mathematics. He also held the prestigious Aisenstadt Chair at the University of Montreal during the academic year 2005-6. Bhargava's work has continued to transform his field, particularly regarding the solutions of cubic equations.

Besides the Fields Medal, Bhargava has received numerous other awards and prizes, such as the AMS Cole Prize (2008), the Blumenthal Award for the Advancement of Research in Pure Mathematics (2005), the Packard Foundation Fellowship in Science and Engineering (2004), and the Mathematical Association of America's Merten M. Hasse Prize for Exposition (2003).

Bhargava is also an accomplished tabla player who has performed in concert halls, and is an admirer of Sanskrit poetry.