Asset managers see opportunities and challenges on the path to long-term success, that include focusing on the customer, technology and geo-political implications
By Al Fichera, KPMG
Published: 12 October 2018
While buoyant markets have given the world's alternative asset firms reason for optimism in the near term, senior executives are alert to the unfolding challenges and their organization's ability to respond. Asset managers acknowledge that current, calm waters could grow rougher as a result of customer behavior and technology change, or turn choppy due to geo-political or cyber-security threats. They are considering their firm's capabilities to recognize, respond and, in some cases, rethink their proven approaches, whether internally or externally supported.
These insights are among the major themes that emerged from KPMG's 2018 Global CEO Outlook, in which we surveyed 1,300 CEOs from leading enterprises. Once again this year, an integral component of this effort included capturing the perspectives of a cross-section of asset management executives. As a result, 88 leaders from the sector participated, representing firms with revenues from $500 million to $10 billion in 11 countries.
Such an extensive survey population brings into sharp focus the key issues of executives within our industry niche, and make useful comparisons with other sectors. With many commonalities emerging across industries, the title for this year's report, 'Growing pains,' is very relevant for both the broader community of global CEOs, and specifically to the alternative investment sector.
Anticipating more modest growth
Looking at the big picture, our study revealed how CEOs are confident about the future of their industry and firm, however with more modest rates of growth than in the past. Specifically, 92 percent of asset managers are confident in their company growth over the next three years, and 80 percent are confident in industry growth. However, half of asset management leaders anticipate topline revenue growth of less than two percent, and 44 percent expect revenue growth between two and five percent.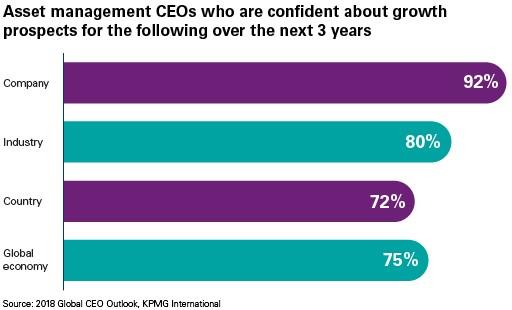 Perhaps a result of these muted growth projections, 57 percent of asset managers expect to increase their headcount by less than five percent over the three-year timespan. They are also looking at new markets to extract fresh growth, since 66 percent of asset managers state that emerging markets will be their priority - versus 32 percent who will focus on developed markets – especially in Latin America and Eastern Europe.
What's tempering their growth ambitions?
When we examine the underlying reasons for asset managers' subdued views on growth, we see several factors weighing upon them. First, senior leadership in our industry is not immune to concerns about how connected their enterprise is to their customers. In fact, whether we talk with retail-focused funds serving the mass affluent or high net worth segments, or firms catering to institutional clients, there is a consistent preoccupation with their ability to meet present or emerging customer demands.
Our survey highlighted this concern, in that only 45 percent of asset management leaders believe they are meeting customer expectations for a 'personalized' experience and 34 percent feel they are falling below customer expectations. Interestingly, asset managers are significantly less confident in their firm's success in this area when compared to their counterparts in banking and insurance. This may suggest that asset managers realize they need to catch up with their financial services peers in terms of how they are connecting with their customers and offering customer centric products, services and channels.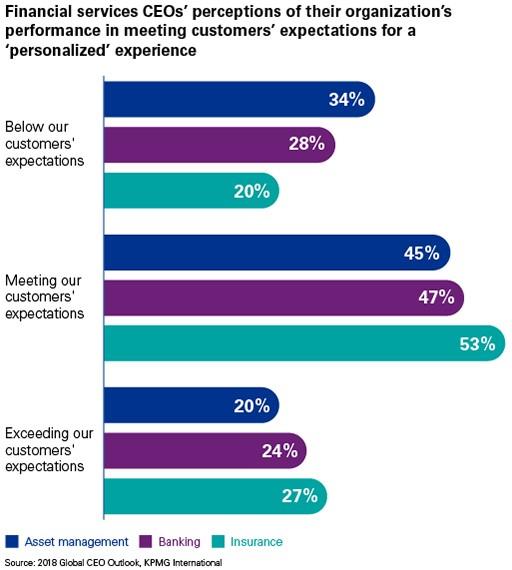 In addition, while asset managers may have in the past primarily linked customer satisfaction with investment performance, executives in our survey voiced concerns about learning to understand the needs of millennial customers, whether in terms of attracting their attention among competing online content or adapting their sales and distribution models to the next generation. In addition, our survey found that the top priority among asset managers to support growth over the next three years is to make their products and services available via an online platform provider.
Second, while customer demands are paramount, asset managers are well aware of the potential impact of geo-political factors on their growth. Alongside their colleagues in other industries, asset managers rated the perceived 'return to territorialism,' including the uncertainty around Brexit in Europe and increased trade conflicts worldwide, as being the number one threat to their organization's growth. This attention to geo-political issues has increased significantly since we polled leaders in 2017.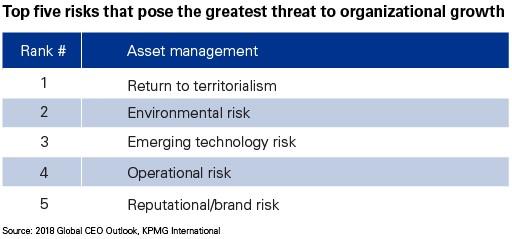 This finding mirrors the concerns shared by alternative asset management clients who question their ability to continue to deliver top quartile returns in markets made volatile by political tumult. They are also uncertain whether they can expand their portfolios, sales or operations in attractive new markets if protectionist or increased regulatory actions take hold.
Third, while asset managers listed a number of top risks on their radar screens, it's noteworthy that cyber security risk climbed significantly from 2017, achieving a top five ranking among CEOs, whereas the issue barely made the top 10 list last year. While banking and insurance CEOs expressed greater concern with cyber security risks than asset managers - perhaps due to their larger customer exposure and greater public retail profile - asset managers are paying closer attention to the threat. This sentiment is clear when you consider that 58 percent of asset managers say that a strong cyber strategy is now a critical foundational element to engendering trust with key stakeholders.
Overcoming the growth challenges
Despite the various growth inhibitors described above, we've witnessed bold moves among asset management clients to respond to these challenges. For example, a number of firms are actively forming strategic alliances (32 percent), enhancing or accelerating their organic growth (30 percent) and some (17 percent) are focused on mergers and acquisitions.
Many CEOs indicated that they are clearly embracing digital transformation, notwithstanding the long lead time and investment required. Notably, 98 percent of asset manager CEOs see technology disruption as more of an opportunity than a threat, and 73 percent are personally prepared to lead their organization through radical transformation.
However, 70 percent say the lead times to achieve significant progress on transformation can be overwhelming. A key takeaway is that - despite the fact that 91 percent were looking for significant returns within three years - there was a clear need to manage expectations with their board. Over half the CEOs (56 percent) say their boards and those charged with governance have unreasonable expectations of such returns.
And, there's no doubt that asset managers are among the leaders in the application of artificial intelligence and predictive analytics to strengthen their portfolio performance. Among our survey respondents, 35 percent say they are now piloting/trialing AI in a small number of processes and 49 percent have begun limited automation of AI for some specific processes. These executives also report that they consider it highly important for their firm to hire emerging technology specialists, data scientists and cyber security experts.
However, our 2018 Global CEO Outlook definitely highlights some of the challenges these firms face moving forward. Among them, there is some hesitancy among senior executives to put absolute trust in new data & analytics techniques, over traditional methodologies and models. For example, 53 percent of asset management CEOs say they are less confident about the accuracy of predictive analytics than historic data. In addition, 67 percent of these executives say they have put their own experience or intuition ahead of the insights provided by data analysis models or computer driven models when they contradict. This suggests that leaders feel there is still work to be done to ensure the consistency and reliability of technology-driven methods, before they are ready for mass implementation across their firms' critical operations.
Similarly, a number of CEOs state that, while they believe that building third-party partnerships is critical to improving their business and operational agility, a quarter of respondents note the difficulty of sharing data securely with third parties and the challenges of measuring ROI from third-party partnerships. Fully 60 percent of asset managers recall that they reconsidered a partnership with a third party that could have helped achieve growth since there was not a good fit with their organization's culture and purpose.
Considering the insights from these senior executives, one can't help but be struck by the sheer volume and depth of the issues facing CEOs and how they are focusing their efforts as leaders to engage and solve them. By doing so, innovative alternative asset firm CEOs can overcome the 'growing pains' many have described, to meet or exceed their current modest growth ambitions, and position themselves to seize the opportunities emerging from shifting client needs, evolving markets and transformative technologies.
Access KPMG's 2018 Global CEO Outlook at kpmg.com/CEOoutlook.