AIMA Canada Virtual Summer Social
featuring wine tasting with Amanda Bradley
AIMA Canada & CGE-EMB are pleased to invite you for a new take on our annual Summer Social, brought to you virtually this year with a special guest, Amanda Bradley, formerly co-founder of Alo & currently co-founder of Vela & Maison d'Hôte.
Please join us for wine tasting (bring your own bottle), hospitality instruction and delightful discussion with your fellow industry peers. We looking forward to seeing everyone online to celebrate the summer season!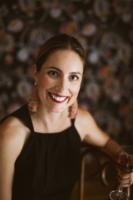 ABOUT AMANDA BRADLEY:
Amanda's passion for hospitality began with humble beginnings in Stratford, Ontario before she embarked on a journey that would see her excelling in the highest echelons of restaurant management. A career that has involved two Michelin-starred La Grenouillere in France, as well as co-founding Canada's Best Restaurant, Alo, and currently launching Vela, a new restaurant at King and Portland in Toronto, Amanda demonstrates a strong and unwavering dedication to the art of hospitality.

Behind the scenes, she is continuously discovering the wonderful world of wine. After her Sommelier education with the International Sommelier Guild, Amanda move to France to explore French wine and culture. One of the greatest highlights of her career to date was participating in the grape harvest in Mercury, France, which is why her palate is naturally drawn to wines of the Old World with minimal intervention practices.

Amanda also owns an in-home entertaining business, Maison d'Hôte (House of the Host) where she endeavours to bring the restaurant experience into her clients home, taking care of finer details so that the host can relax and feel like a guest at their own party.
During these unprecedented COVID times, Amanda has used her industry connections and wine knowledge to organize a wine group that allows her friends to enjoy mixed cases of wine in the comfort of their own homes. Her philosophy is grounded in an understanding that for the most part, wine exists for our senses and is assessed by our senses, and is therefore mostly subjective…so drink what you like, when you like!

In Partnership with: