Alternative investment managers: The brewing war for tech talent
By Paul O'Leary Partner, Technology Risk Assurance at RSM, UK ; Steve Rake Director at Harvey Nash Group
Published: 28 June 2021
Investment talent will continue to be a primary driver for most alternative investment management firms, but are the digital skills and capabilities just as valuable?
Many alternative asset managers have reported good financial results and demonstrated their resilience over the past 18 months. A key enabler for this has been the accelerated and innovative use of technology and data to allow more time and resources to be invested on business strategy, organisational design, and data-informed decision-making. Other firms have accepted less efficient working practices whilst working remotely and are now starting to consider how technology and data could be better used in the future.
Leading firms have invested significantly in their digital capabilities to:
Better measure the strength of their operational processes through analytics and enhance key functional areas such as tax, regulatory compliance, reporting and investor servicing.
Understand how changes in operational demand drivers relating to new products, new strategies, new distribution channels and volume of transactions impact their complexity profile and inform strategic planning.
Identify and measure cost reduction opportunities, including the use of automated workflows, straight-through processing of data, and automating routine and repeatable processes.
However, for organisations that have started to realise the benefits from embracing digital technology, to have a successful execution of the strategy requires tech talent that is in high demand such as software development, architecture, big data and analytics, cloud, and cyber security.
What tech talent is in demand?
Based on our experience, alternative investment managers are seeking:
Big data and advanced analytics — advanced analytics and visualisation provides insights across the entire investment lifecycle. Big data provides the technologies to capture and enrich the data, while advanced analytics applies the algorithms to create insights from the aggregated data that can be actioned. Anecdotal evidence suggests that the number of firms using this to unearth new investment opportunities and underpin new strategies is only going to increase.
Cyber security — business risk goes beyond portfolio performance and market risk. Investors and regulators hold the Board and senior management accountable for making proportionate investment when dealing with cyber security. While alternative investment manager have their own unique challenges, they understand the threats. To address new security challenges, they are adopting a relentless focus on protecting the firm's revenue streams, business processes, intellectual property and client data.
Software development — artificial intelligence (AI) and robotic process automation (RPA) solutions are now commonly being used. Examples include identifying key contractual risks and obligations from agreements, automating know-your-customer processes, self-help chat bots, and progressing new investment opportunities only when they meet predefined criteria.
How do you attract and retain tech talent?
If someone tells you that culture and social purpose are the most important things when looking for a job, you are in the presence of a very rare person indeed, because recent survey findings place 'pay' very, very firmly in that number one position.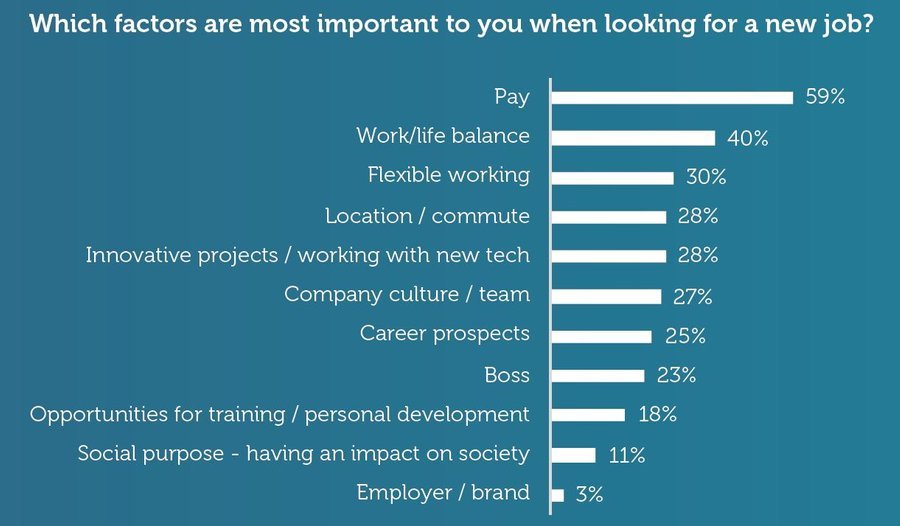 It is a rather brutal conclusion, especially where many organisations make a big play on how their mission is to change the world, but there is no doubt that one of the sector's biggest attractions is how it rewards people.
That said, it is clearly not the only factor and, research tells us, for most people pay only matters to the extent that they feel they are paid a 'fair worth' for their skills, at which point other factors become more important.
The next most important factors centre around the personal life of that person; work/life balance, flexible working, location.
It is only when we get past these that we begin to see factors that relate directly to the company or job role - working on innovative projects, company culture and a good boss. It suggests that to attract people organisations need to be able to show people how a role will work with their own personal life, not just how amazing the job is itself.
Does location matter?
The only consensus right now is that there isn't one. The roadmap for future working continues to emerge with a view that face-to-face time is valuable for collaboration, innovation, and coaching. But most envision a hybrid arrangement and, in some cases, have already indicated some may no longer need to return to 'the office' at all.
We have seen firms accelerating their approach to recruiting new talent 'outside of region', particularly when searching for the most in demand tech talent. For example, in the UK, tech hubs are expected to remain such as London, Cambridge, Manchester and Newcastle. However, there are also some new hotspots emerging such as Bristol, Leeds, Basingstoke, and Sunderland. This is generally happening across the globe and other examples would include central European countries looking to utilise talent in Eastern Europe and the Americas as a whole, being a talent pool for managers in the US. As well as expanding the available talent pool, there is also an opportunity to build a much more diverse and inclusive team.
Of course, the other key consideration, is the accessibility and augmentation of services and best of breed solutions provided by third parties. An example of this at work is in the UK, there can be near-shoring (e.g. Ukraine) and off-shoring (e.g. Vietnam) as options. Another alternative is the virtual chief information security officer (VCISO) option, which is gaining traction. Partnering for software development can also provide a cost-effective opportunity to maximise productivity and value.
What is clear is that alternative investment management firms have an opportunity to accelerate their digital strategy, and this will require skills and capabilities which are in high demand, clarity on the desired business outcomes, and a path to achieve them.