SMCR implementation timetable
By Andrea Finn, Partner (Employment), Simmons & Simmons
Published: 23 April 2018
The Senior Managers and Certification Regime (SMCR) is being extended to cover all FSMA-regulated firms.
The most senior individuals within these firms (the "Senior Managers") will have their responsibilities codified and be subject to a positive "duty of responsibility" to avoid regulatory breaches. Firms will be required to certify that individuals in "significant harm functions" ("Certified Persons") are fit and proper on recruitment and annually. New conduct rules will apply to almost all staff ("Conduct Rule Staff") within the firm and breaches of the Conduct Rules must be reported to the FCA and recorded in regulatory references.
While the senior manager element of the regime has attracted most attention, from an implementation perspective, firms will need to put time into designing systems and processes (including effective training) to implement all three aspects of the regimes. The FCA has made it clear that it sees the conduct rules regime as a critical change, designed to drive change in culture within firms.
The final rules are expected to be published in summer 2018 when the FCA responds to industry feedback on its consultation papers (CP 17/25 and CP 17/40 ] in particular). The exact date has yet to be announced by the Treasury although the FCA anticipates that it will take effect in mid to late 2019 for most firms (insurers will be subject to the regime from December 2018). The FCA has expressed willingness through the consultation process to reflect industry feedback: while the framework derives from primary legislation, following consultation the details of the new regimes may change prior to implementation.
Firms emerging from the huge workload involved in implementing MIFID 2 and thinking about GDPR compliance may be tempted to park SMCR preparation until later in the year. However, even if low key, firms should start to grapple with their SMCR project now by assessing what their firm will need to do and identifying any particular challenges.
International businesses and groups of companies should look at making SMCR work in practice and whether they wish to make changes to their structures to align better with SMCR. They may also want to think about whether there are aspects of SMCR which should be seen as good practice and applied across the board.
Managing communications and obtaining senior engagement and involvement are critical to successful implementation and should start as soon as possible and continue throughout the implementation process and beyond. This is not a "compliance/HR" project – it affects how your business operates at the most senior levels.
Firms should remember that this is not a tick box implementation project but will represent the "new normal". It will affect nearly every aspect of dealing with people within the firm. There is an opportunity to use the regulatory change to review and assess the effectiveness of your governance structures, allocation of responsibilities and assessment processes.
With the above principles in mind, a countdown to implementation date is set out below – this timeline is aimed at smaller / less complex firms – large complex organisations will need to bring forward the timetable to allow for the complexities of their businesses.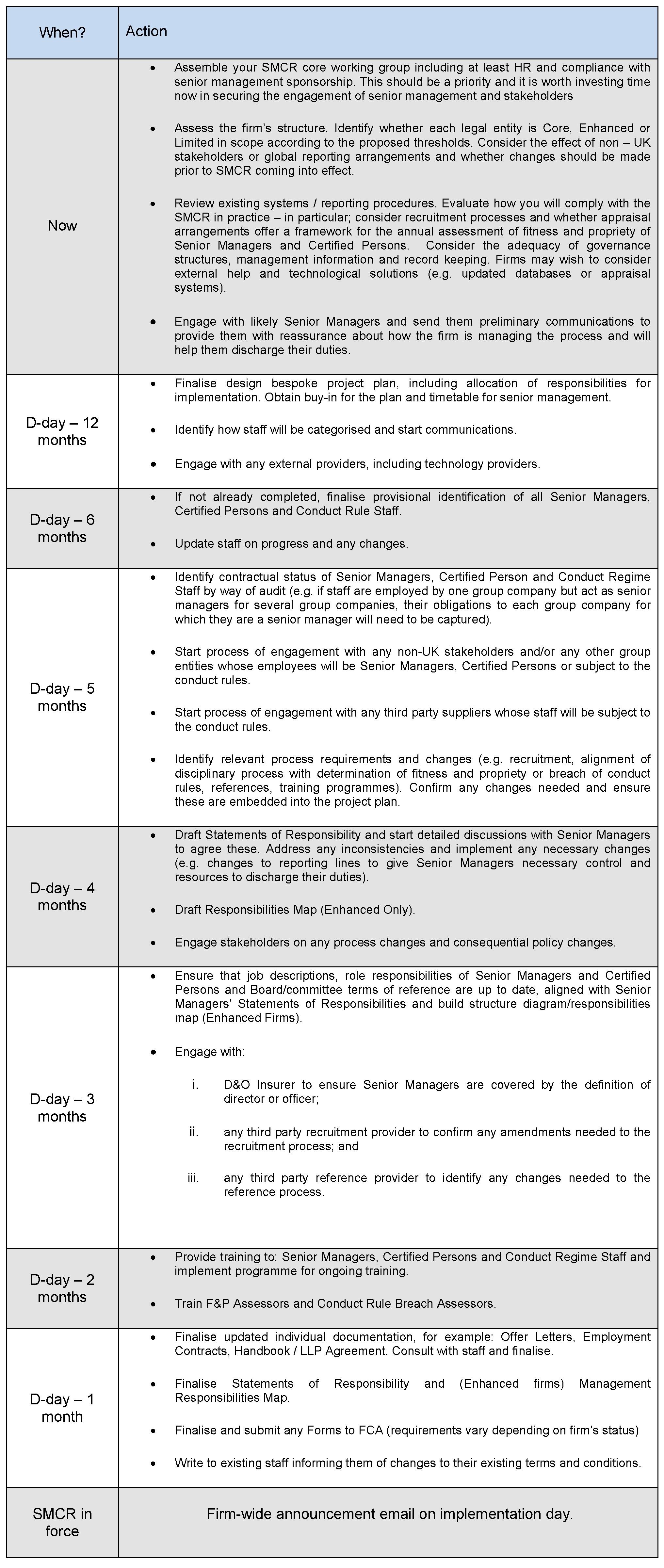 To contact the author:
Andrea Finn, Partner (Employment) at Simmons & Simmons: [email protected]