About AIMA Canada
AIMA Canada, a National Group of AIMA in Canada, was formed in March 2003 to act as the voice of the alternative investment industry in Canada. It marks its 17th anniversary in 2020.
AIMA Canada's corporate members include hedge fund managers, institutional investors, pension fund managers and consultants, administrators, auditors, lawyers, prime brokers and other service providers. In addition to working with regulators, holding luncheons and information sessions in Toronto, Montreal, Vancouver and Calgary, AIMA Canada has developed a variety of publications including the AIMA Canada Handbook.
Belle Kaura, Vice President, Legal and Compliance, Third Eye Capital serves as Chairman of AIMA Canada and heads its Board.
To contact AIMA Canada, please email [email protected].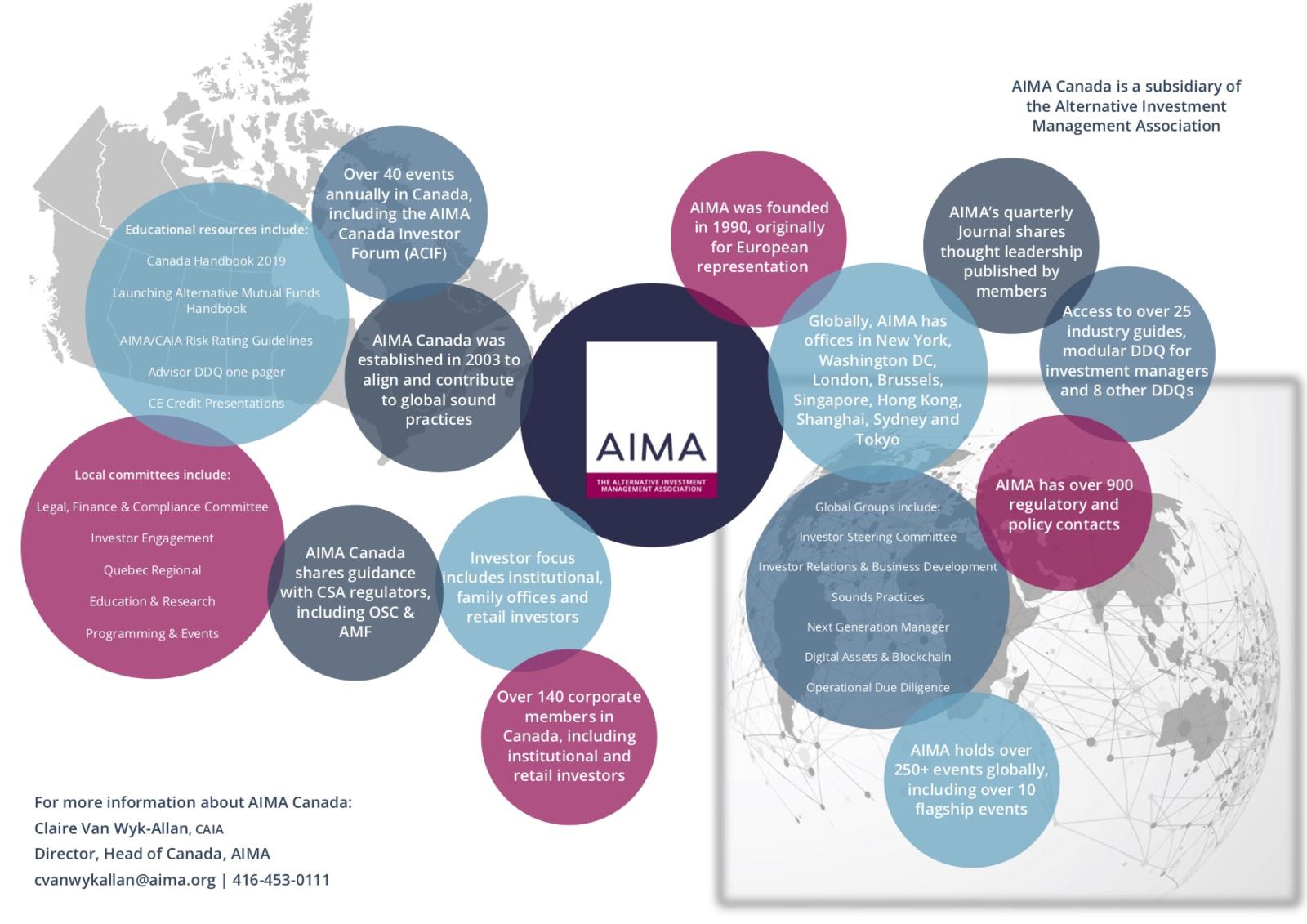 AIMA Canada Executive Board
Meet the AIMA Canada Executive Committee! from AIMA on Vimeo.
The AIMA Canada Executive Board oversees and supports all of the sub-committees and liaises with AIMA headquarters in London (UK) to ensure consistency in fulfilling AIMA's, and the sub-committees', mandates and fosters cooperation between committees, members and other stakeholders.
2020-2022 members are as follows:
| | | |
| --- | --- | --- |
| Director | Claire Van Wyk-Allan | AIMA Canada |
| Chair | Belle Kaura | Third Eye Capital |
| Deputy Chair | Robert Lemon | CIBC Capital Markets |
| Treasurer | Derek Hatoum | PwC LLP |
| General Counsel | Darin Renton | Stikeman Elliot LLP |
| | Stéphane Amara | Allianz Global Investors |
| | Peter Boffo | TD Securities Inc. |
| | Daniel Dorenbush | Scotiabank |
| | Kimberly Jansen | BMO Capital Markets |
| | Elissa Johnson | State Street |
| | Jeff Ray | Mackenzie Investments |
| | Raj Tandon | Algonquin Capital |
| | Wendy Kang | Citco (Canada) Inc. |
| | Liam O'Sullivan | RPIA |
| | Chris Farkas | KPMG |